Shield of Knives
Location: Fair Grounds
Price: N/A (Dropped by Alligator Man)
Sellback: 4,500 Fame
Rarity: Event Rare
Base Level: 10
Description: This epic shield is made up of a bunch of razor sharp throwing daggers. Where did we get all the daggers? From Dagger Co. - It's right next to Bandages Inc.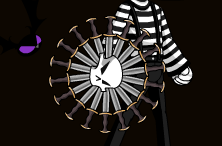 Thanks to Xervos.