Harriet Popper
Greetings friend! Not only am I the star of the new Harriet Popper series, but I'm also a student at Swinescabs, a traveling Wizard Academy.
Believe it or not, the movie is actually a documentary of our travels! We travel from city to city with our magic wares and occasionally recruit young talent.
Wizard Academy?
Haven't heard of us, huh? Well, you should have heard of me, I'm quite famous for defeating one of the most evil wizards of all time, Moldywart.

The academy specializes in spell crafting and potion making. We are currently in search of more raw ingredients.

More
All students in Swinescabs are placed in 4 special houses — Hawkentiger, Lizardoff, Ferretpuff and Crowtalon. Each of the houses are required to maintain a specific quota of potion items per month for crafting our spells.

It also creates some much needed competition between the houses since it's off season for Broombroomball.
Missions
Would you like to help? In turn we can teach you how to craft some of the most powerful spells in the world!

You must gather ingredients to make potions, use potions to help craft spells.

Be careful — spellcrafting is not a science, it's MAGIC, and you may have to keep trying until you get it right.

Ingredients?
The harder ones you might find off of the gross creatures in Super City like Chudlings and Zong Fleas. The rest I have plenty in stock here:

Butterscotch
Peppermint
Cinnamon
Flax Seed
- Harriet Popper's Shop
- Harriet Popper's Missions
---
Location: Market Street
Note: Parody of Harry Potter.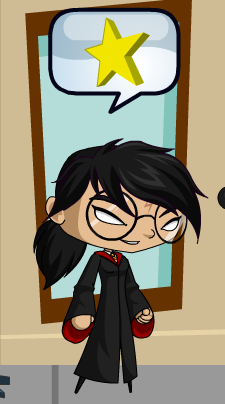 Thanks to Ashluv.