Barker's Blade
Location: PRIZES Shop - Fair Grounds
Price: 300 SmashCoins
Sellback:
First 24 Hours: 270 SmashCoins
After 24 Hours: 75 SmashCoins
Rarity: Event Item
Base Level: 7
Description: Zazul, the master of macabre, is also a master weapon smith in his spare time. He also enjoys long walks in landfills, and the screams of children.
Note: Color Custom to Accessory Color.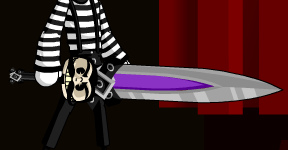 Thanks to Xervos.